AzB Silver Member
Silver Member
Hi Kamui fans. The time has come for all of us to recognize what is a fake Kamui and what is an Authentic Kamui.
We are changing our "look" NOT formula to make sure that YOU, the player and installer is getting a GENUINE Kamui tip.
Please watch our counterfeit video:
http://youtu.be/OgFOtXGK1mE
Please study the image below and share with all of your friends. The fake Kamui tips will noticeably not perform like a Kamui tip. But before you get yours installed be sure it is the real thing!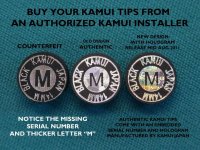 For further education on the evolution of the Kamui tips
1. At a brief time we did have black Kamui tips without the foil stamp. 2008-2009 But all Blacks had a unique serial number.
2. In August of 2009 we had a threat of counterfeit so we created the current "foil stamped" look.
With ALL of my authorized Kamui installers I RECALLED all the old look tips(non-foil stamped) and replaced with foil stamped. (I have a lot of the old ones)(NO MS)
RULE OF THUMB: Buy the Original or Black with a foil stamp, THEN look for the serial number pushed into the face.
The counterfeiters can not keep up with us as we can change the look of the Kamui tip at any moments notice. If it does not have a foil stamp you run a high risk that it could have been sourced out of a counterfeiter.
We do this to ensure that you get the real thing.
This chart below was made to show in 2009 what the new look is, what we know now. The HOLOGRAM will come out end of August.
Last edited: