...and I get all da rolls
Silver Member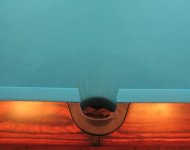 that's what my pal shared with me, he said authorized Diamond installer
did this kind of work for him. The wet spot is how this hack tried to cope with the problem, hoping the cloth will shrink and set down.
My friend said this was going to be fixed but by the same company
So apparently it is not worth it.
Could anyone recommend a skilled table mechanic in Canada?