AZB Osmium Member
Gold Member
Silver Member
This is a position from the 2019 Mosconi Cup. This is a safety left by Filler. With the 1 and 9 where they are, giving up ball in hand is a loss.
In the actual match, there was enough room to play the cue ball between the 3 and the 8 to hit the 1 ball, which Shane did. Suppose the cue ball is tight against the 6. What would you do?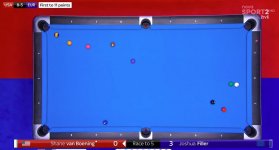 The full Mosconi Cup is available on Matchroom.live. I think it's $2/month now for US viewers. This shot is from Day 3 coverage, starting at 3:03:00 or so.