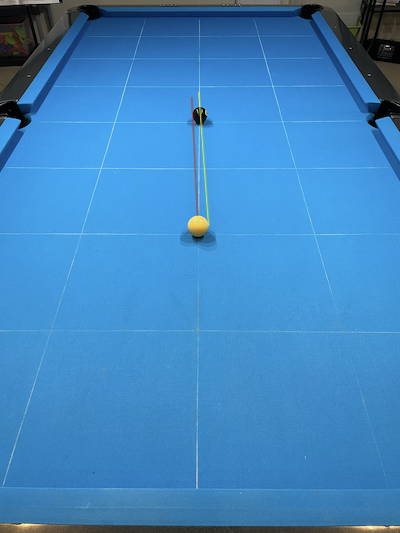 I'm going to explain how to shoot this shot into the upper right corner pocket using real CTE. Anyone that wants to give this an honest try, please do so and report back to this post. And by honest try, I mean give it at least 10 tries, hopefully many more, and be willing to throw out your old habits for a bit while you follow exactly the instructions I give you. If you don't want to try, don't reply. Thanks.
I'll start off by saying that this will be a lot of steps, as I'm going to try to be as detailed as possible. The whole process becomes a nearly unconscious fell swoop once you get the hang of it.
So, this shot falls into the "30 degree perception" of CTE perceptions. The exact angle to the pocket is irrelevant. On the photo I drew a red line and a yellow line
for reference,
these are not 2D angles, they are for your eyes. The red line, which is center cueball to left edge of object ball (OB), is the "site line" or SL. The yellow line, which is cueball right edge (CRE) to OB center is the "aim line" or AL.
A good habit is to use the OB and CB equator to find center ball.
For this shot, your left eye will be dominant for the (red) SL, and your right eye will be dominant for the (yellow) AL. For this to work, your nose must slightly be turned to the right of center cueball (CBB). This is the "angled face", or "poke your head out" as Hal used to say. When your nose is to the right, your eyes look slightly left. There is only one place where you will see the SL and AL perfectly. Emphasis is on the AL. As Stan says, "stand behind the AL such that you can see the SL", so make sure that head is poked to see AL clearly! Don't worry about the exact angle of your face, just worry about getting SL and AL perfect
(it will be roughly toward the pocket we are shooting into.)
That will give you everything. It will no doubt take a little practice as this is very different from conventional aiming. However, our visual intelligence learns quickly. So at at ball address, or "out of the box", align your face to the shot so that the above instructions are followed. Your cue is not swung into any shooting position yet.
From this perception, or offset, you can easily find the actual shot line, and here is how. Without moving your head or body, but only your eyes, switch your focus to the right edge of the CB. With your focus here you will (peripherally) see a new cueball center. This process is called "stepping the cueball." THAT new center is the shot line. You can now switch your eyes directly onto it. Or back to the CRE. Or back to SL/AL. All with your eyes. Now, if you wanted to, you could hold your focus on the shot line, go right into full stance or "in the box", and swing your cue right onto that line (in a natural way for you) and shoot the shot. This is very much what "Pro One" is, and this is a very valid way of using CTE. No physical pivot! You basically take your eyes from an offset position and slide into "target shooting" position behind the shot line, just like conventional aiming. But that is not the instruction I'm giving for this post. Keep that in your back pocket, you might like it.
Now, here is how we transfer from ball address to full stance. You have the perfect perception, left eye dominant for SL and right eye dominant for AL. Now, keep your focus on the SL all the way down to full stance. Do not lose it. For this particular shot both the SL and AL can be kept in perfect view, but the SL is the main focus. Now that you are down in full stance, check that the SL and AL still look perfect. Your face may angle slightly more at this position, which is natural. Go ahead and tweak until SL/AL are perfect, in case you got out of alignment on your way down to full stance. (Eventually this becomes completely unconscious.)
Now that we are in full stance, head position still at an offset to see the SL and AL, focus your eyes on the cueball right edge (CRE). You will see a new cueball center. This is "stepping the cueball." (Stepping with the right edge of the CB is equivalent to a "right pivot" in Basic CTE.) That is the shot line, or what Stan calls the NISL (No Imaginary Shot Line). This is the line you want to put your cue on. That is the shot.
Now, how should you transfer your cue stick to that line? Really all roads lead to Rome from here, but there are some discreet options.
One option is to slide the cue onto the NISL in one smooth motion as you move from ball address to full stance. This is what is termed "disguised pivoting", as there is no physical pivot involved, it's all done with the eyes. Your eyes are still on the SL/AL offset, your eyes find the NISL and your cue (and bridge) moves right onto the NISL. From here you can easily double check the SL and the NISL back and forth (or just "all at once" after this becomes automatic.) You can shoot your shot from here, no need to move anything. (This is easily my favorite way to use CTE.)
Other options are Basic CTE pivots and full ball pivots, but we'll leave those out of this post for now.
That's it, that's basically the whole process in a nutshell for a 30 degree perception. You can probably figure out the left cut shot as everything is mirrored (including face angle), but we'll leave that for another post.
Let me know how it goes!
Last edited: