LAMas -- Your solution would give the correct aiming points (base of GB), but the numbers on the template would still not be the correct cut angles, because they relate to the OB-to-CB line rather than the GB-to-CB line.

Conceptually, the correct solution is for the cut-out to be over the GB rather than over the OB, with the arrow pointed at the CB. Then the cut-angle numbers would be correct.
AtLarge,
I concur with what you have been sayin a few times in this thread, but I have been busy supporting Dan with his template. I have trouble with GB aiming for to me it is a figment of my imagination - I imagine that it is touching the OB on the line to the pocket/target, but without a finite spot to aim the CB at, My imagination fails me.
I prefer to aim at fractions, eclipse or double distance similar to the resulting aim point in Dan's template. When the CB and OB are close together, I can see the contact point on the CB and the contact point on the OB, align the cue shaft parallel to those two points and shoot.
Back to your message. Here is a center of the CB aimed at the edge of the OB. The ghost ball is on this line and the CB is also on this line at differeent separations away from the GB and edge of the OB. All of the different CBs are on this line and the 30 degree angle doesn't change.
When I see the line from the center of the CB to the center of the OB, the included angle changes getting a little larger as the CB is placed closer to the OB - see this in my diagram.
I correlate this included angle and I aim the center of the CB at the edge of the OB. This is a more defined method of aiming at the points of aim around the equator of the OB that I have stored in my memory - like those in Dan's template.
This works for me even tho it requires adjustments for the increasing included angle as thee CB and OB are progressively closer.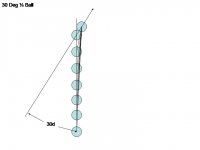 I had to look for this diagram that I drew years ago.
Thanks.:smile: