I love Ivory.
Silver Member
An open-letter in response to an e-mail to me by AZB Moderator...
Dear
AZB@azbilliards.com
I have been cut from my side and I can not say anything anymore pertaining to an affiliation I no longer have. I kept quiet as I have decided to resolve things offline than join this word war. There are things that you do not know, specially those promises "I" supposedly have made 100%. But making my rebuttal will not resolve anything as it will just be an unending he says I says and unnecessary and uncivilized exchange of mud. That is why I have decided to do resolution quietly, diplomatically while the whole world burn me at the stake. More words, more mistake, I believe in that. Resolution is the best way. This was an internal matter and I am resolving it internally. For the record, I am already in the process, almost done and the result would be zero accountability for the cuemaker whom I used to be affiliated with. If I missed out somebody, please let us settle internally.
As for the scamming accusation, everyone has freewill to believe what he wants to believe. I have consulted legal experts already and the reason why there are so many scammers in the internet is because, legally there is no hold. And the amount involved would never warrant inter-country litigation. Simply, they could just disappear and get away. But I didn't. I was resolving issues even if it cost me much. Scamming means taking money WITHOUT the intention of reciprocating its value at the time payment was received. For the record, I have shipped more than a hundred cues overseas, that does not count my local shipments. To be exact that is 137 cues in all overseas. I have all the documents to prove it.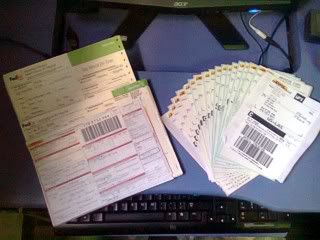 A scammer wouldn't boast such a record of successful deliveries in just a span of 2 years - in just 2 years so to speak. Let's talk about money. I would say that yes, there were a few cues above $500 but mostly are below $500. Shipping I shoulder of around US$80-100 as I only ship by the best courier available. I shoulder also some incremental expenses like the 3x5 Universal Cases I have given, the other free cases I provide as marketing bonuses, the expenses I incur in shipping the cues, the packaging, gasoline and parking fees going to DHL and FedEx, internet and manpower cost to maintain/update website, etc. This is business and not charity, I need to cover my expenses too. Going back, I could safely say that the average selling price would be US$450, which is rational as you could see all the prices I have posted. US$450 x 137 cues is US$61,650. In Philippine money that is Php2,712,600 at the exchange rate of US$1
hp44. This is business, not charity. We all have to make money somehow. But even if I had 30-35% cut to cover my expenses and of course a bit something for myself to compensate my efforts, did I gain advantageously? You do the math. I should be driving a new BMW now if I wished to scam.
You may believe what you want to believe and anybody can say what they want to say, but numbers do not lie. 137 successful cue shipments overseas in just 2 years is no joke and not a simple feat to accomplish. It takes a lot of heart and character and trustworthiness to do such a thing.
Yes, people have shortcomings, but doesn't everybody? I have always admitted faults whenever. My priority and course of action was to resolve diplomatically. This was an internal matter and it should have been left at that.
I do very well understand that it would be difficult for me to rebound on this, but I have been receiving also sentiments and support, specially from those whom I have serviced in good faith, yes, more than a hundred of them and more. And it would be unfair for them for me to stop servicing and not continue to provide them with good quality cues for a better value for your money. In time I will be back, but not as a cuemaker supporter, but as an individual trader. That way there is only one channel: You as a customer and ME as the seller. I will never involve any other person anymore and I won't take the heat for anyone anymore and I won't cover for anyone anymore. I will also take a hard lesson from this incident and will make a major change in payment policies. This time, it will just be finished cues for the meantime as I have a 100% NO DELAY record in finished cues deliveries. Then most importantly, all customers will not pay upfront the cost of the cue. Buyers will just send US$80 flat rate to cover shipping - I ship the cue. When customer receives the cue, they pay. Simple. It is a very high risk for me, but if it is a good way to protect the customers, it has to be done. 137 times they have trusted me, 137 times and more i will trust them back. Also, I will be registering my trading company in the Securities & Exchange Commission so my business would be legal and legit. I will be issuing Government-Issued Invoices and Official Receipts, so all of you may have at least a legal hold on any untoward incident. No more undocumented transactions.
For AZB, I wish to extend my sincere apologies as this was supposed to be an internal matter. This ruckus has no room in this prestigious forum.
This has been a business issue and never a product issue. I ask of you all to continue patronizing products which you feel are a good value for your money. The products I carry are those whom I believe in, and for more than 2 years I believed in a product which has international quality and one of the best, maybe if not the best, in marquetry and craftsmanship. Products has nothing to do with this issue. Whatever differences we still have to settle, we will do it internally and please let us be in that aspect.
Business world is harsh, but it is part of the game. Even big companies close, big companies split, some go bankrupt, some do mergers. But at the end of the day, how you get over the hurdles is what makes you continue and be stronger.
Sgd.
Les Lacson