Since this thread is about how good is a 600 player I will tell you from my experience. I have a ton of games in the system about 75% from league play and 25% from outside competition. Here I am today.

In league play I don't have much even competition. There is only one player in our area rated higher than I am. The people below me in the stats below from our last 8 ball session before the pandemic are in the 565 range. And like myself they all have a large robustness to get there with much play out of league. Notice the huge difference in break and runs and table runs between them at 565 and myself at 608.

When I last took my show on the road at the Western BCA regional 9 ball tournament it looked like this with the match results below. This was the platinum division with fargo ratings between 585 and 625. As I recall our bracket had about 60 players. The kid who won was a 590 and oddly still is right in there. He was very tough action though, at least when I played him. Overall I won 36 games and lost 29. However at 605 at the time half of these opponents were 15 points below me. So it looks about right.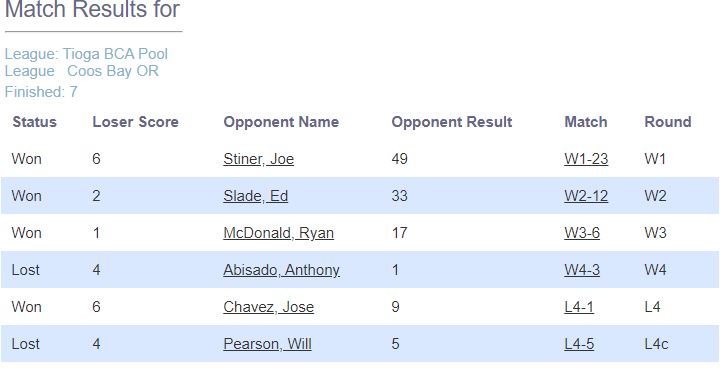 At the last Western BCA 8 ball event there were about 1300 players there and less than 100 with a fargo higher than mine so I would guess it's correct a 600 player is in the top ten percent of all rated players. But don't kid yourself there are plenty of players lurking to take your money.

Now back to the other question of this thread. The 9 ball ghost on my tough 9 foot diamond eats my lunch. I win occasionally but usually have 3-5 wins in a race to 7. I can dominate the 7 ball though. If you are a player without a rating and can beat the 9 ball ghost regularly on a nine footer you are considerably better than I am. Probably in the 635-640 range minimum to have that skill level.

Are fargo ratings accurate? I think they are very accurate. Way better than anything we've ever had before.

Thank you Mike Page
Last edited: