Orbis Non Sufficit
Gold Member
Silver Member
November 1936 Chicago, IL
Under a shroud of protective secrecy, Herman diligently served on the jury during their November 1936 session. He can be seen up in the right hand corner of this group photo from the occasion.
Research has now revealed that during his stint on the jury, a "True Bill" was returned on November 20, resulting in the arrest and subsequent imprisonment of a child killer named Andrew Capoldi, seen in the attached photo.
Fed up with these unspeakable acts being committed against children, Capoldi's arrest led to the chief of police asking for a "list" to be compiled of known child-offenders in the area, so that their response and investigation of crimes like these could begin much quicker. Basically they began building the equivalent of a sex-offender registry like what we have today.
We certainly want to thank Mr. Rambow for his service during this case. Also a great big THANK YOU to Herman's family for sharing this great photo with us all.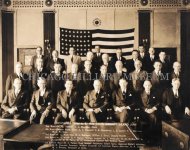 Herman is top right corner. His chin is directly above the gap between E and U in the word museum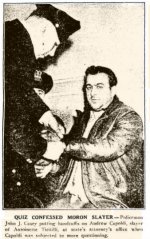 Back then, before widespread use of the word "pedophile", child offenders were referred to as " morons ".
This moron, who had already been to prison twice, snatched up a 5 year old girl, did bad things to her, and slit her throat to cover his tracks.
She was found 3 hours later, still alive, and was able to tell the police who did it.
Sadly she died later.
Fortunately, there is a special place in hell waiting for him.