Hiya guys and Gals,
I have this Schon and I personally have NO IDEA what its worth. Here's what I know.
Overall condition is very good. The cue has a small nick as seen in the photo of the butt. Rolls STR8 as an arrow together and apart!
19.5oz
One Shaft @ 12.75
I'm scared to post a price I don't even know the model, I've never owned a Schon however I did hit a few balls with it and it plays very, very, good!
Thanks for the Help...
Once I can establish Fair market value I will firm up a price feel free to PM offers, NO TRADES PLEASE.
As always thanks for your help.
NINER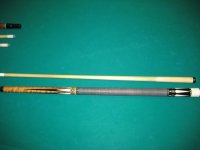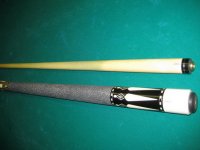 View attachment 81855
Last edited: