AzB Gold Member
Gold Member
Silver Member
Greetings from Costa Rica. I'm here for a few days on vacation and heard the distinctive sound of balls clacking against each other driving by and said to the gf let's go play pool there is a pool hall here. The gf says no way, how can you possibly hear that? Ha ha
The place was open air, kind of like a balcony with a roof to protect from the elements, but no windows, and on the second floor. The equipment was junk. The cloth was at least 5 years old, with the nap completely work off. All of the house cues had slip on tip/ferrule combos. The balls were beat up pretty bad. The cushions were the softest I've ever felt. More like weatherstripping foam hardness rather than rubber hardness.
Nonetheless, I was super happy to be there. I asked a local to play, and he said why, you and your gf play instead. I said no, I want to play one of you. I said just for fun. He said we only play for money. I said ok, I'll play for money. Then he said, no, we will play for fun. He said 8 ball. I kind of got lucky and ran the first game off of his break, including two banks. They must have thought I was a pro they all stopped their game to watch me.
Now that my opponent, Luis, knew that I could play, he asked if I wanted to play the Costa Rican version. I said absolutely. It's about the same as 8 ball, but whomever has solids has to make the 1 in the designated side, and whoever has stripes has to make the 15 in the opposite designated side. The tables are marked specifically for this game (see pic). You can make them at any time during your run. The only qualification is they have to go in clean, no caroms, combos. The rest of the game plays like regular 8 ball.
The main table had a gambling game going on. I'd say everyone was a C player. Everyone was having a good time, talking and crowding the table while shooting. It was a really nice atmosphere to hang with the boys, imo.
A couple of pictures below. I'm posting from my phone so sorry if they are too big I can't resize them without my computer. *edit: pics resized now that I'm on computer.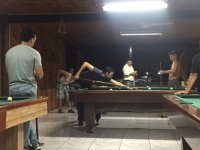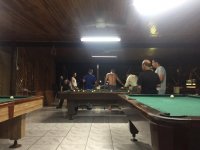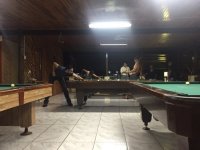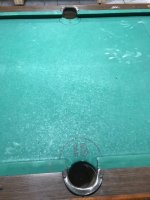 Last edited: